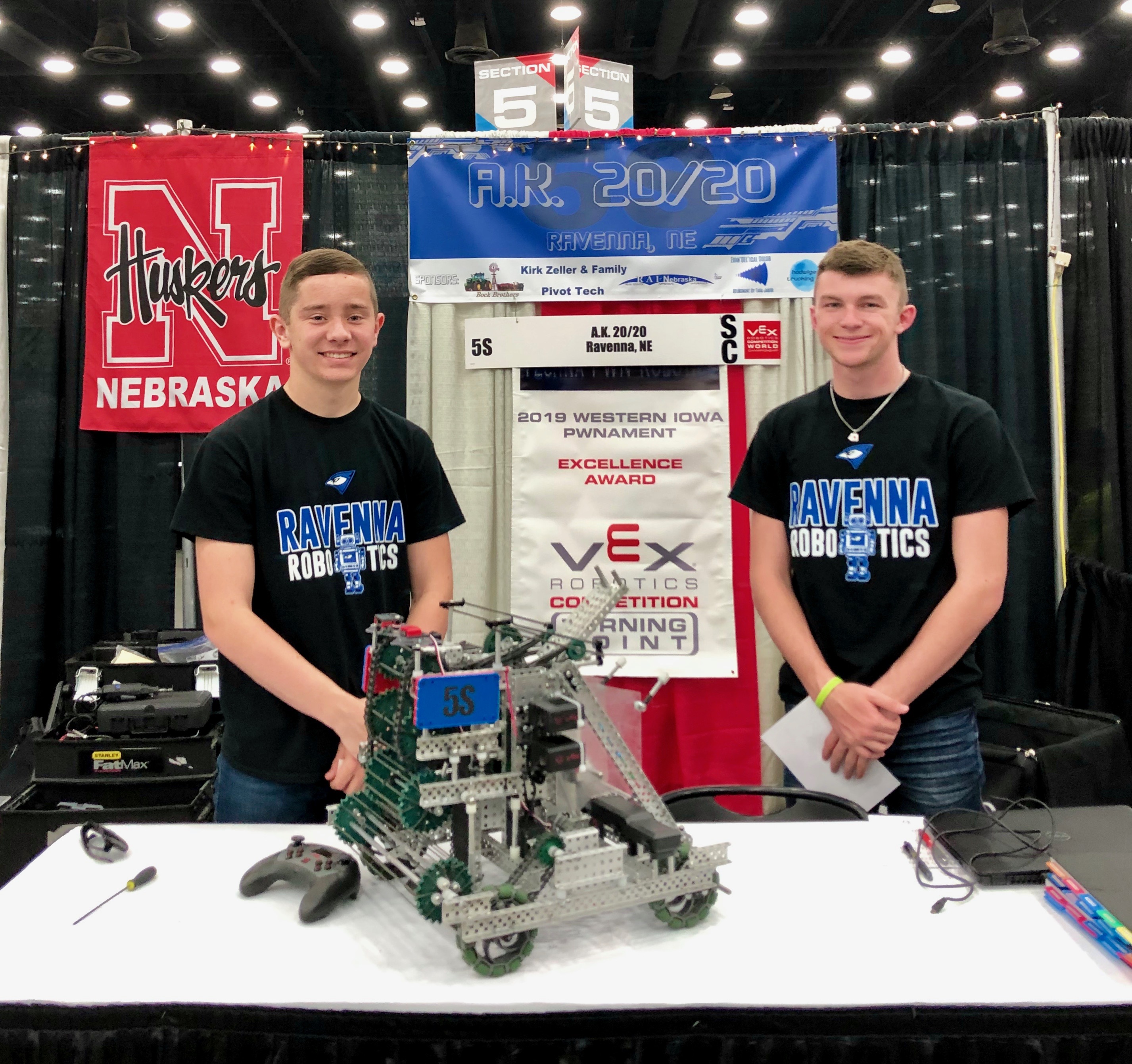 | | |
| --- | --- |
| Robot Name: | BIG WELD |
| Active: | No |
| Grade Level: | High School |
| Location: | Ravenna, NE |
| Program: | VRC |
| World Skills Rank: | N/A |
Team
We are team 5S, a two man team from Ravenna, Nebraska. Our team consists of only two members, Abe Schroeder and Kooper Schirmer. Abe is the robot designer, robot builder, and is in charge of the engineering notebook, and Kooper is in charge of programming, project management, and scouting at competitions. It is currently both our second year competing in VEX Robotics as well as our second year qualifying for the World Championship as team 5S. Our team's main focus is learning how to strategically develop and use an effective engineering design process to create the highest quality, most efficient robot possible to overcome the challenges faced in competitions. We use a series of frequent project time line updates, robot and autonomous progression updates, as well as our three-step engineering design process in order to accomplish this goal. Our three-step design process consists of brainstorming ideas, sketching and prototyping, and finally testing and finalizing those ideas. Our team also tends to slightly alter our design process throughout the season in order to perfect its overall quality. After high school, we both plan on going into careers involving STEM. We truly believe that because we have the opportunity to compete in VEX Robotics, and learn how to both use an effective engineering design process to overcome challenges and manage our time between robotics and other extracurricular activities, we will be more than prepared to pursue our careers after high school.
Season
This season's game has allowed us, team 5S, to drastically improve our team's overall quality. Initially, our goal was to increase our overall build quality, autonomous consistency, and improve the quality of our project documentation. After our first competition however, we took our goals to a new level. We realized that if we really focused on our three main goals that we set initially, we could potentially qualify for the World Championship. After coming to this realization, we focused and continually improved among all three of our goals. Throughout the season, we improved from winning no awards at our first competition, to winning a design award at our second competition, a sportsmanship award, and two, back-to-back excellence awards at our final competitions before the Heartland Regional. We knew that we were drastically improving our overall team quality throughout the course of the season based on our increase in awards won. This increase in quality was a huge confidence booster going into the Heartland Regional. Although we didn't win the regional competition, we managed to achieve a new high skills score, did very well in qualification matches, and became tournament semi-finalists, which qualified us for the World Championship. In addition to our competitive success, we also wanted to branch out to spread the word about the benefits of using an effective design process. In order to do this, we entered the Promote Award Online Challenge in order to inform other teams about the importance of using an effective design process.
Sponsor
Our team, 5S, is fortunate enough to have, who we believe, is one of the best sponsors we could ask for, Kelley Jarzynka. Mrs. J is the most involved, caring sponsor we've ever had. She not only supports us in robotics and at competitions, but she is just as involved in our other extracurricular activities outside of robotics. Mrs. J is involved in One Act, Academic Decathlon, Science Olympiad, and, of course, VEX Robotics. She goes above and beyond what she has to do for her students. Mrs. J is the sponsor for our robotics class in school, but she doesn't just stop supporting us after school hours. She is constantly up at the school for hours and hours on end after school and on the weekends just to let us work on robotics. Whether she's had a great day of teaching or has had a very busy, stressful day, she still manages to bring the best out of her students inside and outside the classroom. She does this, not because she enjoys a busy, stressful lifestyle, but because she cares about seeing her students succeed in everything that they strive to accomplish. Mrs. J's helpful advice and guidance has allowed every team from our organization to succeed in nearly everything that they do.