Event Dates
Date: 11/02/2019
Venue/Location:
Hudsonville High School
5037 32nd Ave
Hudsonville, Michigan 49426
United States

Grade Level: Middle School
Robot Skills Challenge Offered: Yes
General Info
Thank you so much for choosing to compete in the VRC MS only Tower Takeover Tournament hosted by Hudsonville Robotics!  This will be our 4th year hosting and we look forward to a fun and collaborative event.  
The competition will be hosted in the spacious main gym of Hudsonville High School conveniently located one mile north of I-196 just west of Grand Rapids, Mi. Ample parking is available on campus and there are also plenty of resturants and retail locations in the area.  Note that there will be multiple events hosted at the Hudsonville campus that day so the parking lots will be full this year.
Teams will participate in qualification matches, skills events, judging in the pits, and elimination matches if qualified.  We will be following the rules in the latest release of the VEX Robotics Competition – Game Manual. 
Pit tables, seating, and electrical power will be provided for each team attending along with plenty of spectator seating.  A cafeteria is located across the hall and teams are welcome to bring their own food.   We will have an array of concession snacks and drinks, and this year we will also have food trucks at the event with a variety of cusine. 
For more information please visit our website at www.hudsonvillerobotics.com or email info@hudsonvillerobotics.com. 
Agenda
Again we will be implementing alternating block schedules for age groups.  When the high school is competing in qualification matches the middle school can do skills and judging. During the following block the roles are reversed. We plan to hold 6 qualification rounds for each age group.
All times subject to change.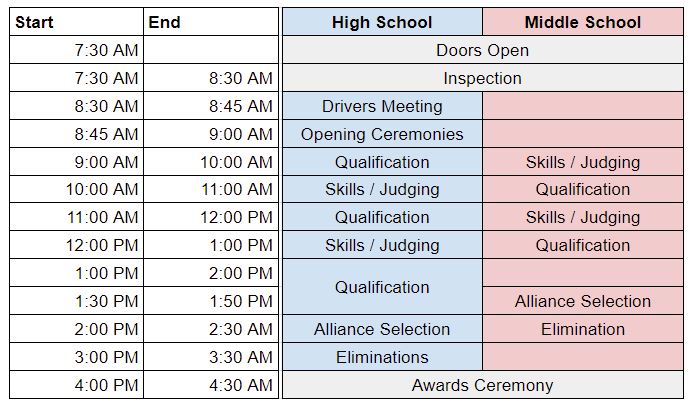 Volunteer
We have various positions for volunteers ranging from high school age to adult for novice to expierienced volunteers. We will be posting a volunteer signup web page in September.
If you have experience Refereeing or with Robot Inspections please contact us directly at info@hudsonvillerobotics.com
Emergency/Bad Weather Policy
In case of bad weather conditions or possible cancellations please visit this page on Robotevents.com or www.hudsonvillerobotics.com where we will post updates about the event status as needed. 
Refund Policy
All requests for refunds must be made 3 weeks prior to the event. Refunds, if approved, will be processed within 2 months following the event.
Event payments are expected when you register for the event and must be completed (showing PAID) a min of three weeks prior to the event date. Un Paid teams will be removed from the event to allow teams on my wait list to register. Please contact info@hudsonvillerobotics.com if there are special considerations that need to be made.
---
Date: 11/02/2019
Hudsonville High School
5037 32nd Ave
Hudsonville, Michigan 49426
United States

Travel Info
Hudsonville High School is located on 32nd Ave less than a mile north of the I-196 (exit 62) interchange. There are several area restaurants and gas stations within a few miles. 
Parking is to the north of the high school and the entrance is at the northwest corner.  Head to the southwest corner of the parking area between the buildings and take the bridge to the events entrance.