Maryland VRC High School State Championship - Tower Takeover
03/07/2020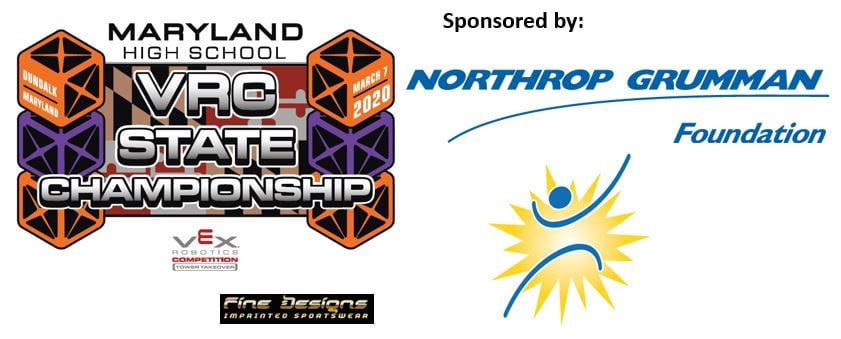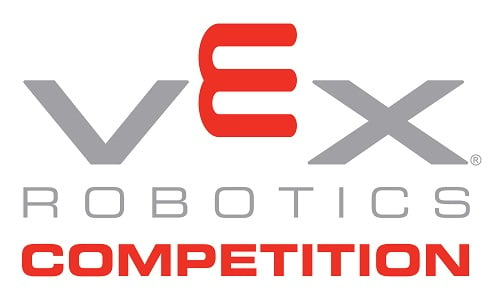 Event Code: RE-VRC-19-8638
Program: VEX Robotics Competition
Type of Event: Tournament
Capacity: 60 / Spots Open: 0
Event Region: Maryland
Price: $150.00
This event is closed to registration because:
This event currently has no spaces available.
It is past the registration deadline.
Event Dates
Date: 03/07/2020
Venue/Location:
1901 Delvale Ave
1901 Delvale Avenue
Dundalk, Maryland 21222
United States

Grade Level: High School
Robot Skills Challenge Offered: Yes
Contact Information
You must
login
to contact this Event Partner
General Info
Welcome to the VRC High School Maryland State Championship!
Teams must qualify for the Maryland VEX State Championship by competing in a qualifyingl event or having a top qualifying skills score at the end of the regular season.
If your team qualifies before January, 2020, registration must be paid by January 31, 2020.  If you qualify after January 1, 2020 you must pay within two weeks.  Anyone not registered and paid will be removed and replaced by a team from skills.  
Agenda
Agenda
*SKILLS -  attempts are limited to:
3 robot driver
3 autonomous
Friday, March 6
5:00 PM to 8:00 PM   Check-in, Inspection, and Skills

Saturday, March 7
7:00 AM                       Doors Open
7:00 AM - 8:15 AM      Registration and Inspection
8:25 AM                       Parade representatives line up at Skills
8:45 AM                       Opening Ceremony
                                    Drivers meeting
9:30 AM                       Qualification Matches Start
9:30 AM                       Skills open*
12:00 -12:45 PM         Lunch break
1:00 PM                      Skills close
12:45-1:45                  Qualification Matches
2:00 PM                      Division Awards
2:15                            Alliance Selections
2:45 PM                     Elimination Quarter & Semi-finals
3:30 PM                     Division Finals (best of 3)
4:00 PM                     Tournament Final (best of 3)
4:30 - 5:00 PM           Awards Ceremonies 
Volunteer
Please contact Christopher Putnam if you are interested in helping out - cputnam@bcps.org
The following clubs have already stepped up to help with fields and support:
Hereford Zone Robotics
Calvert Hall College
Baltimore County Public Schools
Dulaney High School Robotics
We are in need of the following:
- Judges
- Emcees
- Referees
- field scorers
Thank you for your interest in volunteering and/or helping us recruit volunteers.  Please contact both Chris Putnam and Elizabeth Dodson at
cputnam@bcps.org     and   elizabeth_dodson@comcast.net  if you would like to volunteer or can assist us with recruiting volunteers.
We are currenly seeking the following key positions for experienced volunteers who have filled one of these roles at a local tournament:
Division Manager
Head Referee
Head Judge
We will be in need of many Judges, Computer Operators and General Assistants.  We will have training available on-site for these positions.  All volunteers will receive meals, snacks and a free shirt.
Emergency/Bad Weather Policy
Here is the plan for postponement due to weather date for this event.

March 13/14th at New Town High School 
Schedule and format would be posted after the March 7 event is postponed.
This event is subject to Baltimore County Public Schools weather policy.
If March 14th date does not work out...
In the event of cancellation, the world championship invitations will be based on VEX/Robotics Education & Competition (REC) Foundation policy.
Refund Policy
Refunds will be considered on a case by case basis but are not guaranteed.  
Full refunds minus the $5 RECF fee charged to us will only be given if requested at least three weeks prior to event.
 No refunds will be given to any teams that cancel after February 11th.
If the event is totally canceled, a portion of the entry fee will be refunded minus expenses of the event that cannot be recouped.
Please contact Christopher Putnam for any questions or concerns.
Webcast
UPDATE -  we will again work to livestream the event. 
Stay tuned - the week of the event we will update info here.
2020 HS Championship >  below are old links. 
One of the below links will be used for the semifinals and final
Go Maryland!
Please check back for the latest updated links.
Parking
There is ample parking at the front of the school.
Divisions assigned
NORTHROP GRUMMAN Division
| | | | | | |
| --- | --- | --- | --- | --- | --- |
| Number | Name | City | Short Name | School | Division |
| 24A | 24A | Reisterstown | 24A | The Super Sonic Sparks | Northrop Grumman |
| 53A | Area 53 Alien Raiders | Greenbelt | Area 53 Alien Raiders | ELEANOR ROOSEVELT HIGH | Northrop Grumman |
| 53C | Area 53 Alien Raiders | Greenbelt | Area 53 Alien Raiders | ELEANOR ROOSEVELT HIGH | Northrop Grumman |
| 183Z | Synobotz Z team | Westminster | Synobotz Z team | Carroll Educational Robotics | Northrop Grumman |
| 593D | Oakdale D Team | Ijamsville | Oakdale D Team | OAKDALE HIGH | Northrop Grumman |
| 898A | Mr.CleanFightingMachine | Waldorf | Mr.CleanFightingMachine | Thomas Stone High School | Northrop Grumman |
| 899D | Eva & Friends | Waldorf | Eva & Friends | North Point High School | Northrop Grumman |
| 929N | Hereford Zone Robotics | Parkton | Hereford Zone Robotics | Hereford High School | Northrop Grumman |
| 929S | Hereford Zone Robotics | Parkton | Hereford Zone Robotics | HEREFORD HIGH | Northrop Grumman |
| 929V | Hereford Zone Robotics | Parkton | Hereford Zone Robotics | Hereford High School | Northrop Grumman |
| 1225A | LOCF Robotics | Gaithersburg | LOCF Robotics | Love of Christ Fellowship Youth Group | Northrop Grumman |
| 1727B | REX | Timonium | REX | DULANEY HIGH | Northrop Grumman |
| 1727F | REX | Timonium | REX | DULANEY HIGH | Northrop Grumman |
| 1727X | REX | Timonium | REX | DULANEY HIGH | Northrop Grumman |
| 1893A | High Tech Parrots | Baltimore | High Tech Parrots | BALTIMORE POLYTECHNIC INSTITUTE | Northrop Grumman |
| 5588C | Calvert Hall Cardinals | Towson | Calvert Hall Cardinals | CALVERT HALL COLLEGE HIGH SCHOOL | Northrop Grumman |
| 5588E | Calvert Hall Cardinals | Towson | Calvert Hall Cardinals | CALVERT HALL COLLEGE HIGH SCHOOL | Northrop Grumman |
| 5588R | Calvert Hall Cardinals | Towson | Calvert Hall Cardinals | CALVERT HALL COLLEGE HIGH SCHOOL | Northrop Grumman |
| 5770A | Lady Beasts | Baltimore | Lady Beasts | Baltimore Leadership School For Young Women | Northrop Grumman |
| 5770D | Lady Beasts | Baltimore | Lady Beasts | Baltimore Leadership School For Young Women | Northrop Grumman |
| 5839D | Technical Difficulties | Baltimore | Technical Difficulties | EASTERN TECHNICAL HIGH SCHOOL | Northrop Grumman |
| 7135D | Loyola Robotics | Towson | Loyola Robotics | Loyola Blakefield | Northrop Grumman |
| 7651Y | 7651-Y | Baltimore | 7651-Y | MERGENTHALER VOCATIONAL-TECHNICAL HIGH | Northrop Grumman |
| 8612A | Full Metal Panthers | Baltimore | Full Metal Panthers | THE REACH! PARTNERSHIP SCHOOL | Northrop Grumman |
| 9080H | Green Machine | Hagerstown | Green Machine | SOUTH HAGERSTOWN HIGH | Northrop Grumman |
| 9080S | Rebellious Misfits | Hagerstown | Rebellious Misfits | SOUTH HAGERSTOWN HIGH | Northrop Grumman |
| 23098A | Golden Tigers | Laurel | Golden Tigers | CHESAPEAKE MATH AND IT PUBLIC CHARTER | Northrop Grumman |
| 79666B | Robo Knights | Baltimore | Robo Knights | BALTIMORE CITY COLLEGE | Northrop Grumman |
| 96807A | BHS1 | BOONSBORO | BHS1 | BOONSBORO HIGH | Northrop Grumman |
| 97963B | JC Patriots | BEL AIR | JC Patriots | John Carroll School | Northrop Grumman |
Maryland Division
| | | | | |
| --- | --- | --- | --- | --- |
| Number | Name | City | Short Name | School |
| 24K | Super Sonic Sparks | Reisterstown | Super Sonic Sparks | Sparks 4-H Tech Club |
| 53B | Area 53 Alien Raiders | Greenbelt | Area 53 Alien Raiders | ELEANOR ROOSEVELT HIGH |
| 53E | Area 53 Alien Raiders | Greenbelt | Area 53 Alien Raiders | ELEANOR ROOSEVELT HIGH |
| 341A | Iron Eagles | Severn | Iron Eagles | Annapolis Area Christian School |
| 855A | SPEAR-IT | Pomfret | SPEAR-IT | SPEAR |
| 899A | ALLUMINATORS | Waldorf | ALLUMINATORS | North Point High School |
| 929H | Hereford Zone Robotics | Parkton | Hereford Zone Robotics | HEREFORD HIGH |
| 929R | Hereford Zone Robotics | Parkton | Hereford Zone Robotics | Hereford High School |
| 929U | Hereford Zone Robotics | Parkton | Hereford Zone Robotics | HEREFORD HIGH |
| 934Z | Towson Terminators | Towson | Towson Terminators |   |
| 1670W | Weeping Angels | Prince Frederick | Weeping Angels | Calvert High School |
| 1727C | REX | Timonium | REX | DULANEY HIGH |
| 1727G | REX | Timonium | REX | DULANEY HIGH |
| 1727Z | REX | Timonium | REX | Dulaney High School |
| 5588A | Calvert Hall Cardinals | Towson | Calvert Hall Cardinals | CALVERT HALL COLLEGE HIGH SCHOOL |
| 5588D | Calvert Hall Cardinals | Towson | Calvert Hall Cardinals | CALVERT HALL COLLEGE HIGH SCHOOL |
| 5588H | Calvert Hall Cardinals | Towson | Calvert Hall Cardinals | CALVERT HALL COLLEGE HIGH SCHOOL |
| 5588V | Calvert Hall Cardinals | Towson | Calvert Hall Cardinals | CALVERT HALL COLLEGE HIGH SCHOOL |
| 5770B | Lady Beasts | Baltimore | Lady Beasts | Baltimore Leadership School For Young Women |
| 5839B | Eastern Tech Team B | Baltimore | Eastern Tech Team B | EASTERN TECHNICAL HIGH SCHOOL |
| 5839F | Eastern Tech Team F | Baltimore | Eastern Tech Team F | EASTERN TECHNICAL HIGH SCHOOL |
| 7135G | Loyola Robotics | Towson | Loyola Robotics | Loyola Blakefield |
| 7651Z | 7651-JV | Baltimore | 7651-JV | MERGENTHALER VOCATIONAL-TECHNICAL HIGH |
| 9080C | Rebelution | Hagerstown | Rebelution | SOUTH HAGERSTOWN HIGH |
| 9080R | The Rebel | Hagerstown | The Rebel | SOUTH HAGERSTOWN HIGH |
| 9080Z | The Boomerz | Hagerstown | The Boomerz | SOUTH HAGERSTOWN HIGH |
| 42220A | NEA Jags | Baltimore | NEA Jags | NEW ERA ACADEMY |
| 79666E | Robo Knights | Baltimore | Robo Knights | Baltimore City College |
| 97963A | JC Patriots | Bel Air | JC Patriots | JOHN CARROLL SCHOOL |
| 98719A | Robotic Runner | Bladensburg | Robotic Runner | ELIZABETH SETON HIGH SCHOOL |