WA State Championship VRC Starstruck High School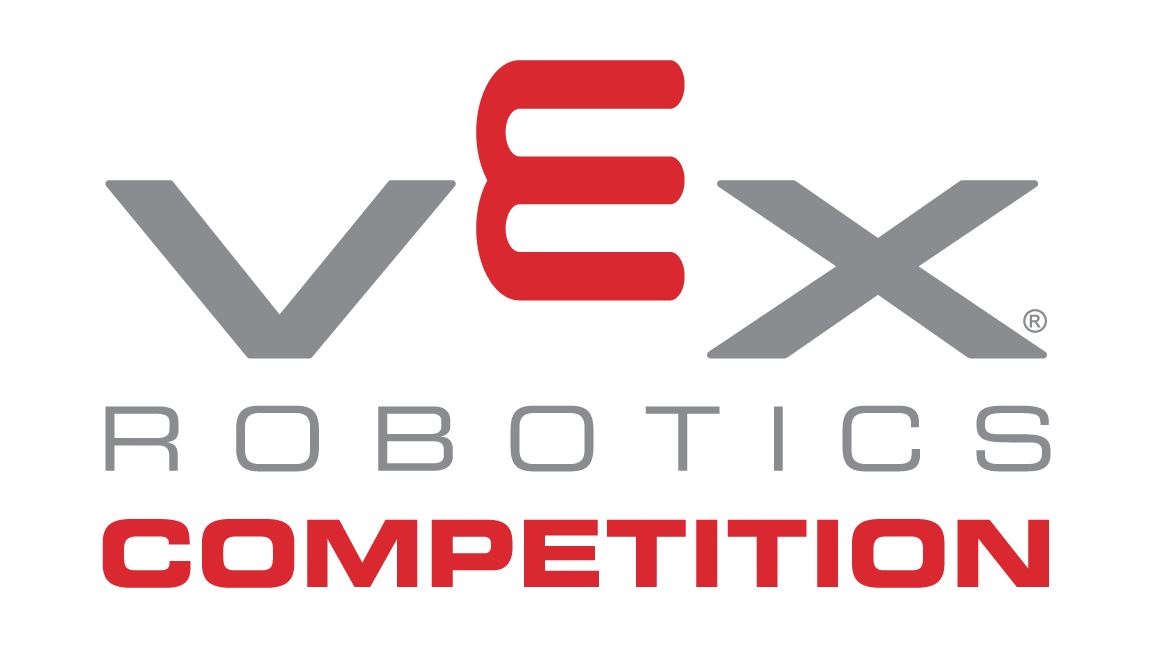 Date

11-Mar-2017

Event Code

RE-VRC-17-5213

Program

Event Type

Tournament

Capacity

50

Spots Open

0

Event Region

Washington

Price

$100.00
This event is closed to registration because:
This event currently has no spaces available.
It is past the registration deadline.
General Info
WA State Championships for the 2016-2017 VRC Starstruck and VEX IQ Crossover Season will take place at the Nicholsan Pavillion, and is hosted by Central Washington University (CWU).
Team Arrival
Teams are highly encouraged to come on Friday March 10 to Ellensburg, and do early check-in, Inspection and Skill Runs.  (Please see agenda tab for details on when facilitiy is open to teams) Teams not coming on Friday are not disadvantaged.  We know however some teams have to travel greater distances, and are more comforatble arriving the night before, and by giving those teams an opportunity to check-in early you will help make Saturday morning go easier for everyone.
Please note: teams not checked in by the end of Team Check-in window will not be added to the qualification matches schedule. (See schedule for teacm check-in deadline.)
Travel Delay
The tournament is not able to wait for teams being delayed for any reason - if you are delayed please send text to 2064094168 with your team number and ETA.
Championship Apparal Store
Special WA State Championship apparal is available from Shirtworks in Ellensburg.  This apparal maybe pre-ordered (highly recommended) and will also be avialble for sale during the Championship event.  To pre-order your apparal please go to this special WA State Championship Apparal store.
Concessions
On Saturday CWU will offer concessions both inside the facility and right outside there will be a food truck.  
Concessions Hours:    7:00AM - 5:30PM  -- Menu  Concessions Menu
Food Truck Hours:  10:00AM - 3:00PM --- Menu Food Truck Menu
World Championships Qualification Spots
In the VRC High School division, the following awards will earn WC spots:
Tournament Winners (3 teams on alliance)
Tournament Finalist (3 teams on the alliance)
Excellence Award
Design Award
Skills Champion
Highest Ranked WA Skill Challenge team not qualified through other awards.
Registration Fee
Teams that qualify after Feb 2, 2017, (or qualified for a Championship that is less than three weeks away) will have one week to register and pay (provided there is still space available in the State/Regional/Provincial Championship). A qualified team that registers after the cutoff date will be given priority on the VRC State Championship waitlist, but will no longer have a guaranteed spot.
Competition Waiver Form
A completed and signed competition waiver form for each student particiapting and the lead coach/mentors of each team is required. (See Documents tab for up-to-date forms)  Teams will not be considered checked in unless all team members and the coach/mentor have submmited a Competition Waiver.
Team Swapping
Team swapping or substitution at State Championship is not allowed.
Skill Challenges
This event will offer skills - both programming and driver and teams will be allowed a maximum of 2 attempts each.
Qualifiaction Matches
Each team will participate in 6 qualification matches, however if due to unforseen circumstances the event is delayed the number of matches maybe decreased to 5.
Practice FIelds
Practice fields are a shared resources between all VRC teams (High School and Middle School) Please be conisdered when using and ensure ALL teams have access.
Judging
All teams wanting to be considered for the Excellence award and the Design award need to turn in their engineering notebook at team check-in.  Only teams based on their submitted Engineering Notebook will be interviewd in a judging session for Design Award consideration and Excellence Award consideration, teams will be visited in their pits.
Inspection
All robots MUST pass inspection before being allowed on any field - practice, skill or competition fields.  Robots not passing Inspection by the time inspection is scheduled to close will not be allowed to particiapte in qualification matches.  All robots in the elimination rounds will at random be re-inspected, any robot violating the size rule will be removed from the field immediately.
PTC test - robots may at random be required to undergo the PTC test, a motor failing the PTC test will result in the team being tournament disqualification.
VEX Remote failures
Remotes will be inspected to ensure they have the clip in working order, teams with remotes not having the required clip will be informed of that and what possibly may happen on the field.  Having bad connections in the remote - crossed pins, no clip can cause the VEXnet to be interrupted and cause robots not starting the autonomous or driver coontrol portion - this is a team caused field failure and no replays will be considered.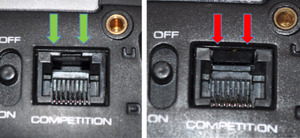 Teams should inspect their joystick ports for damage, especially before a big event! The left joystick port is undamaged. The right joystick port is damaged and won't work properly with the VEXnet field system. This will result in two problems:
The ethernet cable will come out during competition.
The ethernet cable will move around in the socket and either short out the VEXnet field system or move the connections out of contact.
In either case the team will lose connectivity with the field and the robot will not work properly. If teams have a joystick with this issue, they should contact VEX Robotics at: support@vexrobotics.com.
9V backup Battery
All robots MUST have the 9v Backup battery installed in order to be allowed on the skills and competition fields.  Failure to have the battery installed may result in being removed from the field.
Competition Preparation
This event is sure to be a fast-paced and exciting event. All teams should come prepared for competition. Here are a few steps that every team should take to ensure that they are prepared.

1. Review the rules and run through the inspection checklist about a week before the competition so that there is ample time for adjustments. The inspection checklist can be found under the documents tab.

2. Check the official VEX forums for rule updates and changes.

3. Carefully read all of the information contained in the tournament posting on RobotEvents.com

4. Pack for the event the day before the day of departure. Here are a few items that you don't want to forget.
Goggles/Safety Glasses
Spare parts & tools
Batteries and chargers
Programming cable
Power strip
Laptop computer
Engineering notebook (if you have one, helpful for Judges, Design and Excellence Awards )
Banners and other decorations for your team pit
Giveaways if you have them

5. Be sure to read 101 Things You Should Know Before Your First VEX Tournament.

6. Review the descriptions and criteria for the awards that are being given during the tournament.

7. Prep for your interviews with the judges. Check the awards tab to see what awards will be given during the tournament.

8. Remember that safety comes first, please don't bring tools that pose a safety risk to your team, or others nearby as the venue is a very tight fit. Also, remember no grinding or other actions that create sparks.

9. Understand how the game will be played. VEX participants are more than welcome to watch the referee training videos before they attend a tournament. The referee training videos can be found here.

10. Read through the Robot troubleshooting guide. 

11. Ensure that you have the latest version of firmware. 
 
Grade Level: High School
Skills Challenge Offered: Yes
Event Dates & Locations
Date: 11-Mar-2017
Venue/Location:
CWU Nicholson Pavillion
715 East Dean Nicholson Boulevard
Ellensburg, Washington 98926
United States

Contact Information
You must
login
to contact this Event Partner
Agenda
Friday March 10th
Time
 
 
7:00PM
   
Checkin Opens
Inspection Opens
PIT's Open
7:30PM
 
Skills Opens
8:45PM
 
Checkin Closes
Inspection Closes
Skills Closes
9:00PM
 
Facility Closes
Saturday March 11th
Time
 
 
7:00AM
   

Checkin Opens
Inspection Opens
PIT's Open
Practice Fields Open

8:30AM
 
Checkin closes
9:00AM
 
Drivers Meeting - drive team members only
9:30AM
 
Inspection Closes
9:30AM
 
OPENING CEREMONY
10:00AM
 
Qualification Matches
Skills Opens
Design Judging starts
12:00PM
 
Lunch (Skills closed / qualifications stopped)
12:30PM
 
Qualification Matches
Skills Opens
Design Judging
2:30PM
 
Judging Ends
2:30PM
 
Skills Closed
2:45PM
 
Alliance Selection
3:45PM
 
Elimination Rounds
5:15PM
 
Award Ceremony
5:30PM
 
Packing out - PIT's close
Volunteer
A State Championship like this is only possible when people volunteer their time and talent, it you are interested in volunteering please complete the following Google Form
Emergency/Bad Weather Policy
This event wil not have an option to be cancelled due to last day teams can qualify for Worlds and no facility options are available on other dates.
Refund Policy
There are NO refunds for teams registering to attend the State Champinships
---
Date: 11-Mar-2017
CWU Nicholson Pavillion
715 East Dean Nicholson Boulevard
Ellensburg, Washington 98926
United States

Travel Info
Housing
No Campus housing is available for this event, however a number of reasonable priced hotels are located within a few mile radius to campus in Ellensburg.
Holiday Inn Express Ellensburg