VEX Robotics Competition - Division 1
| Award | Team # | Team Name | Affiliation | Location |
| --- | --- | --- | --- | --- |
| Tournament Champions (VRC/VEXU) | 9364C | Iron Eagles | Brentwood Academy | Brentwood, Tennessee, United States |
| Tournament Champions (VRC/VEXU) | 97934U | RoboPanthers | Franklin Road Academy | Nashville, Tennessee, United States |
| Tournament Champions (VRC/VEXU) | 3075A | JoCo Robos | Johnson County Middle School | Mountain City, Tennessee, United States |
| Design Award (VRC/VEXU) | 9364D | Iron Eagles | Brentwood Academy | Brentwood, Tennessee, United States |
| Judges Award (VRC/VEXU) | 16859C | Roaring Robotics | Lakeway Christian Academy | Morristown, Tennessee, United States |
| Judges Award (VRC/VEXU) | 16859A | Roaring Robotics | Lakeway Christian Academy | Morristown, Tennessee, United States |
| Robot Skills Champion (VRC/VEXU) | 9364C | Iron Eagles | Brentwood Academy | Brentwood, Tennessee, United States |
| Sportsmanship (VRC/VEXU) | 31110M | HV Warbots - BobBot | Happy Valley Middle School | Elizabethton, Tennessee, United States |
| Excellence Award - Middle School (VRC/VEXU) | 9364X | Iron Eagles | Brentwood Academy | Brentwood, Tennessee, United States |
| Design Award - Middle School (VRC/VEXU) | 3075A | JoCo Robos | Johnson County Middle School | Mountain City, Tennessee, United States |
Team Award Winners
| Award | Team # | Team Name | Affiliation | Location |
| --- | --- | --- | --- | --- |
| Excellence Award (High School) | 63303A | JCHS Robotics | Johnson County High School | Mountain City, Tennessee, United States |
Awards
Award
Qualifies for
Tournament Champions (VRC/VEXU)
State/Regional Championship
CREATE U.S. Open

Design Award (VRC/VEXU)
Does not qualify for any events.
Judges Award (VRC/VEXU)
Does not qualify for any events.
Robot Skills Champion (VRC/VEXU)
CREATE U.S. Open

Sportsmanship (VRC/VEXU)
Does not qualify for any events.
Excellence Award - Middle School (VRC/VEXU)
State/Regional Championship

Design Award - Middle School (VRC/VEXU)
Does not qualify for any events.
Excellence Award (High School)
State/Regional Championship

Team List
( 24 Teams )
| Team | Team Name | Organization | Location |
| --- | --- | --- | --- |
| 3075A | JoCo Robos | Johnson County Middle School | Mountain City, Tennessee, United States |
| 3075B | JoCo Robos | Johnson County Middle School | Mountain City, Tennessee, United States |
| 9364C | Iron Eagles | Brentwood Academy | Brentwood, Tennessee, United States |
| 9364D | Iron Eagles | Brentwood Academy | Brentwood, Tennessee, United States |
| 9364U | Iron Eagles | Brentwood Academy | Brentwood, Tennessee, United States |
| 9364W | Iron Eagles | Brentwood Academy | Brentwood, Tennessee, United States |
| 9364X | Iron Eagles | Brentwood Academy | Brentwood, Tennessee, United States |
| 9364Y | Iron Eagles | Brentwood Academy | Brentwood, Tennessee, United States |
| 16859A | Cyber Warriors | Lakeway Christian Academy | Morristown, Tennessee, United States |
| 16859B | Cyber Warriors | Lakeway Christian Academy | Morristown, Tennessee, United States |
| 16859C | Cyber Warriors | Lakeway Christian Academy | Morristown, Tennessee, United States |
| 17950A | Spare Parts | Sullivan North High School | Kingsport, Tennessee, United States |
| 17950B | Teamstar | Sullivan North High School | Kingsport, Tennessee, United States |
| 31110H | HV Warbots - Lemonjello | Happy Valley Middle School | Elizabethton, Tennessee, United States |
| 31110M | HV Warbots - BobBot | Happy Valley Middle School | Elizabethton, Tennessee, United States |
| 31110S | HV Warbots - Neobot | Happy Valley Middle School | Elizabethton, Tennessee, United States |
| 31110V | HV Warbots - Hephaestus | Happy Valley Middle School | Elizabethton, Tennessee, United States |
| 50222A | Lady Vex | David Crockett High School | Jonesborough, Tennessee, United States |
| 61717A | Huskies | North Greene High School | Greeneville, Tennessee, United States |
| 63303A | JocoRobo | Johnson County High School | Mountain City, Tennessee, United States |
| 63303B | JocoRobo | Johnson County High School | Mountain City, Tennessee, United States |
| 75139A | Gear | Sullivan North High School | Kingsport, Tennessee, United States |
| 75139B | Tech Tyrants | Sullivan North High School | Kingsport, Tennessee, United States |
| 97934U | RoboPanthers | Franklin Road Academy | Nashville, Tennessee, United States |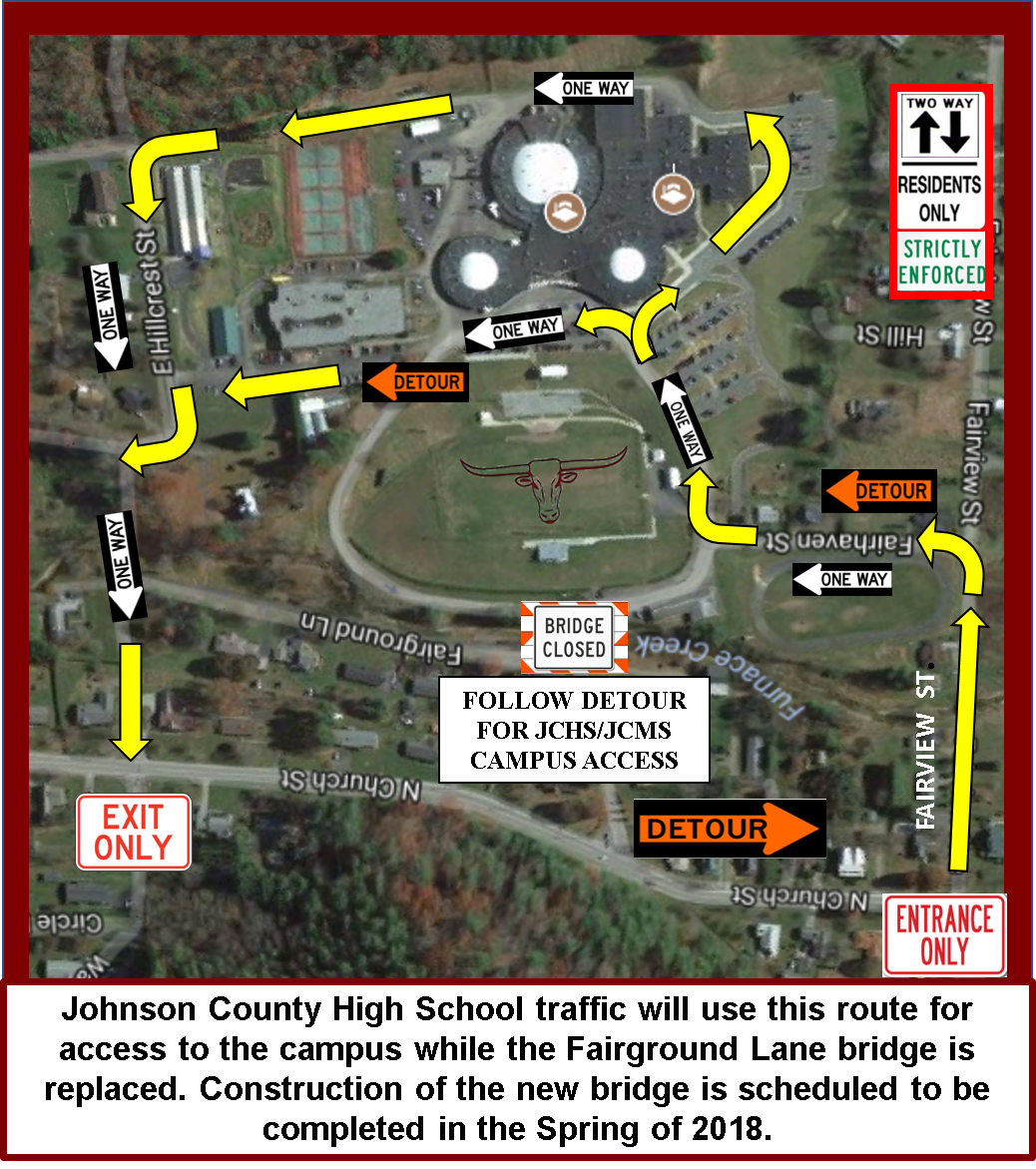 ---
Date: 11/17/2017 - 11/18/2017
278 Fairground Ln
278 Fairground Lane
Mountain City, Tennessee 37683
United States

Travel Info
Traffic Flow Alert:
The main entrance to the middle school will be closed! 
The Tennessee Department of Transportation will be replacing the bridge at the entrance to the middle school and high school campus. Beginning Thursday November 9th construction of the new bridge will begin. You will not be able to enter at the front entrance due to construction.  The new entrance during this time will be entering at Fairview Avenue (at the track) and coming up the hill as normal.  The exit will be leaving by the vocational school and proceeding down East Hillcrest Drive. 
There are numerous hotels in Johnson City, TN which are located off of I-26,  and in Abingdon, VA, which are located off I-81.  Both locations are approximately a 45 minute drive to Mountain City, TN. 
Refund Policy
Refunds will be issued if cancellations are received before 10-15-18.
Emergency/Bad Weather Policy
In the event of an emergency, the tournament will be re-scheduled for a later date.
Volunteer
Anyone interested in volunteering for judges, inpsection, referee, and field setters, please contact event coordinator.  An event T shirt will be provided to all volunteers.
Agenda
Friday, November 17, 2017
6:00-7:30 PM  Judges and Referee Training
6:00-7:30 PM Practice fields and pit area open for registered teams to practice and set up
6:00 PM Inspection tables open
6:00 PM Skills fields open
Saturday, November 18, 2017
7:30-9:00 AM Event Check-In/Registration/Compliance Check/Lunch Orders
9:00 AM General Assembly and Team Meeting (Review driver meeting notes:  https://www.robotevents.com/season/115/document/7/download)
9:15 AM Opening Ceremonies - Welcome, National Anthem, Pledge, Vocation
9:30 AM Qualification Matches Begin 
12:00-1:00 PM Lunch Break
Skills Challenges will reopen at 1:30
2:00 PM Alliance Selection
2:30-4:00 PM Elimination Matches
4:30 PM Awards Ceremony
Event Dates
Date: 11/17/2017 - 11/18/2017
Venue/Location:
278 Fairground Ln
278 Fairground Lane
Mountain City, Tennessee 37683
United States

Grade Level: All
Robot Skills Challenge Offered: Yes
TSA Event: No
General Info
Early team check in, inspection, and skills challenges open on Friday, November 17, 2017 from 6:00-7:30 pm.
Concessions featuring Thanksgiving Meal dishes will be offered on the day of the event.  Teams may purchase tickets at the time of check in for lunch.