VEX U - Division 1
| Award | Team # | Team Name | Affiliation | Location |
| --- | --- | --- | --- | --- |
| Excellence Award (VRC/VEXU) | VEXLB6 | WeBot | Lebanese University | Tripoli, -, Lebanon |
| Tournament Champions (VRC/VEXU) | VEXLB | UA-B1 | Antonine University | Baabda, -, Lebanon |
| Design Award (VRC/VEXU) | LBVEX6 | Mr. Robot | Lebanese International University | Beirut, -, Lebanon |
| Tournament Finalists (VRC/VEXU) | VEXLB1 | MITENGO | Holy Spirit University of Kaslik | Kaslik, -, Lebanon |
| Robot Skills Champion (VRC/VEXU) | VEXLB1 | MITENGO | Holy Spirit University of Kaslik | Kaslik, -, Lebanon |
| Energy Award (VRC/VEXU) | LBVEX3 | eAgleUTech | TechnoFuture Lebanon | Beirut, -, Lebanon |
Individual Award Winners
| Award | Recipient |
| --- | --- |
| Volunteer of the Year (VRC/VEXU) | Elie Chalhoub |
Awards
| Award | Qualifies for |
| --- | --- |
| Excellence Award (VRC/VEXU) | 2018 VEX Robotics World Championship - VEX U Division |
| Tournament Champions (VRC/VEXU) | 2018 VEX Robotics World Championship - VEX U Division |
| Design Award (VRC/VEXU) | Does not qualify for any events. |
| Volunteer of the Year (VRC/VEXU) | Does not qualify for any events. |
| Tournament Finalists (VRC/VEXU) | Does not qualify for any events. |
| Robot Skills Champion (VRC/VEXU) | Does not qualify for any events. |
| Energy Award (VRC/VEXU) | Does not qualify for any events. |
Team List
( 20 Teams )
| Team | Team Name | Organization | Location |
| --- | --- | --- | --- |
| LBVEX | The Robonauts | TechnoFuture Lebanon | Beirut, Lebanon |
| LBVEX1 | Omega | TechnoFuture Lebanon | Beirut, Lebanon |
| LBVEX2 | Panzer2.0 | TechnoFuture Lebanon | Beirut, Lebanon |
| LBVEX3 | eAgleUTech | TechnoFuture Lebanon | Beirut, Lebanon |
| LBVEX4 | IFFT-Robot | TechnoFuture Lebanon | Beirut, Lebanon |
| LBVEX5 | NDU | TechnoFuture Lebanon | Beirut, Lebanon |
| LBVEX6 | Mr. Robot | Lebanese International University | Beirut, Lebanon |
| LBVEX7 | AKU Legends | TechnoFuture Lebanon | Beirut, Lebanon |
| LBVEX8 | Robo-Furry AKU | TechnoFuture Lebanon | Beirut, Lebanon |
| LBVEX9 | Rethink | TechnoFuture Lebanon | Beirut, Lebanon |
| VEXLB | UA-B1 | Antonine University | Baabda, Lebanon |
| VEXLB1 | MITENGO | Holy Spirit University of Kaslik | Kaslik, Lebanon |
| VEXLB2 | USEK2 | VEX Robotics Lebanon | Beirut, Lebanon |
| VEXLB3 | Aramazt | VEX Robotics Lebanon | Beirut, Lebanon |
| VEXLB4 | Samira | VEX Robotics Lebanon | Beirut, Lebanon |
| VEXLB5 | Robo Lab | VEX Robotics Lebanon | Beirut, Lebanon |
| VEXLB6 | WeBot | Lebanese University | Tripoli, Lebanon |
| VEXLB7 | UA-B2 | VEX Robotics Lebanon | Beirut, Lebanon |
| VEXLB8 | USEK3 | VEX Robotics Lebanon | Beirut, Lebanon |
| VEXLB9 | NDURC | VEX Robotics Lebanon | Beirut, Lebanon |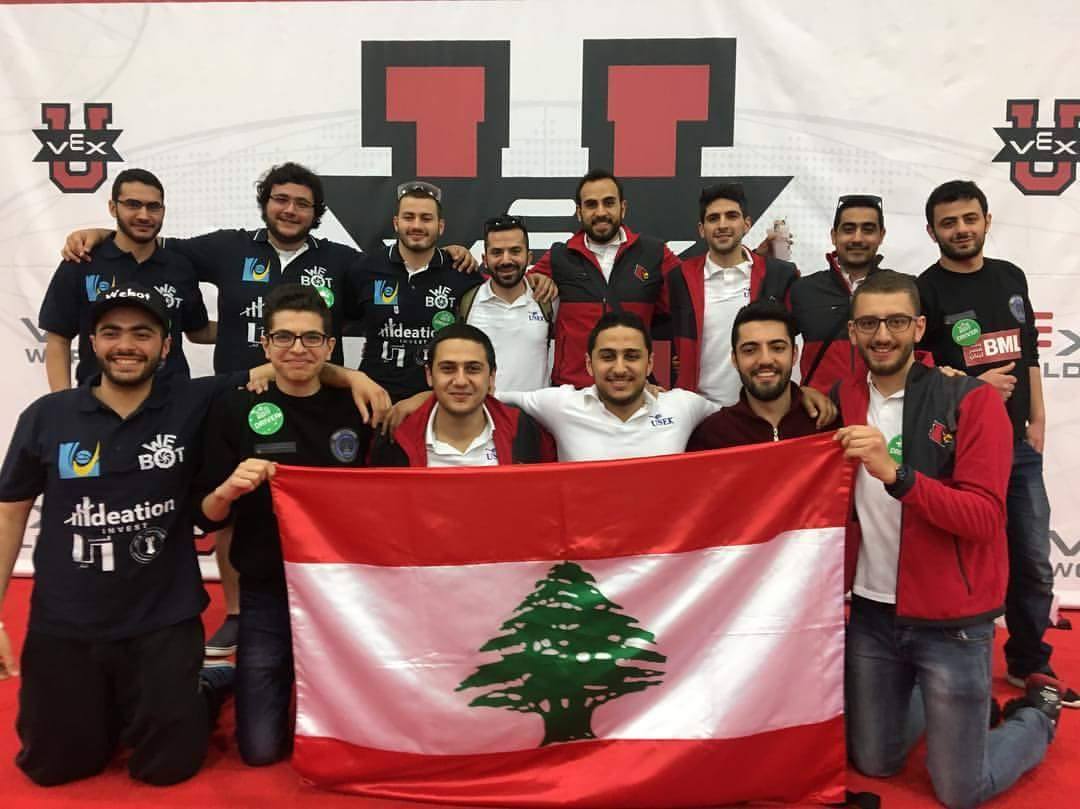 Webcast
Webcast is not available for this event 
---
Date: 03/16/2018
Notre Dame University - Louaize
Louaize, Lebanon

Travel Info
Notre Dame University- Louizeh Campus 
Accommodation is available for teams at the university guest house. Contact us at info@vexlebanon.com for more information. 
Refund Policy
Before February 1st 2018. 
Emergency/Bad Weather Policy
TBA
Agenda
7:00 AM Teams Arrive/ Sign in/ Robot Inspection
9:00 AM Opening Ceremony/ Competition Day Overview
9:30 AM Qualification Matches 
12:00 AM Lunch Break
12:45 PM Qualification Matches Continued
16:00 PM Elimination Rounds/ Skills Matches 
18:00 PM Finals Matches
19:00 PM Awards and Closing Ceremony
Event Dates
Date: 03/16/2018
Venue/Location:
Notre Dame University - Louaize
Louaize, Lebanon

Grade Level: College
Robot Skills Challenge Offered: Yes
TSA Event: No
General Info
The 5th VEX Robotics Competition in Lebanon. Competition date for VEXU division will be on Friday. Teams from universities from all Lebanon's governantes will partake in the largest competition in Lebanon.