Level UP!- VEX GO Classroom Challenge
11/02/2020 - 06/30/2022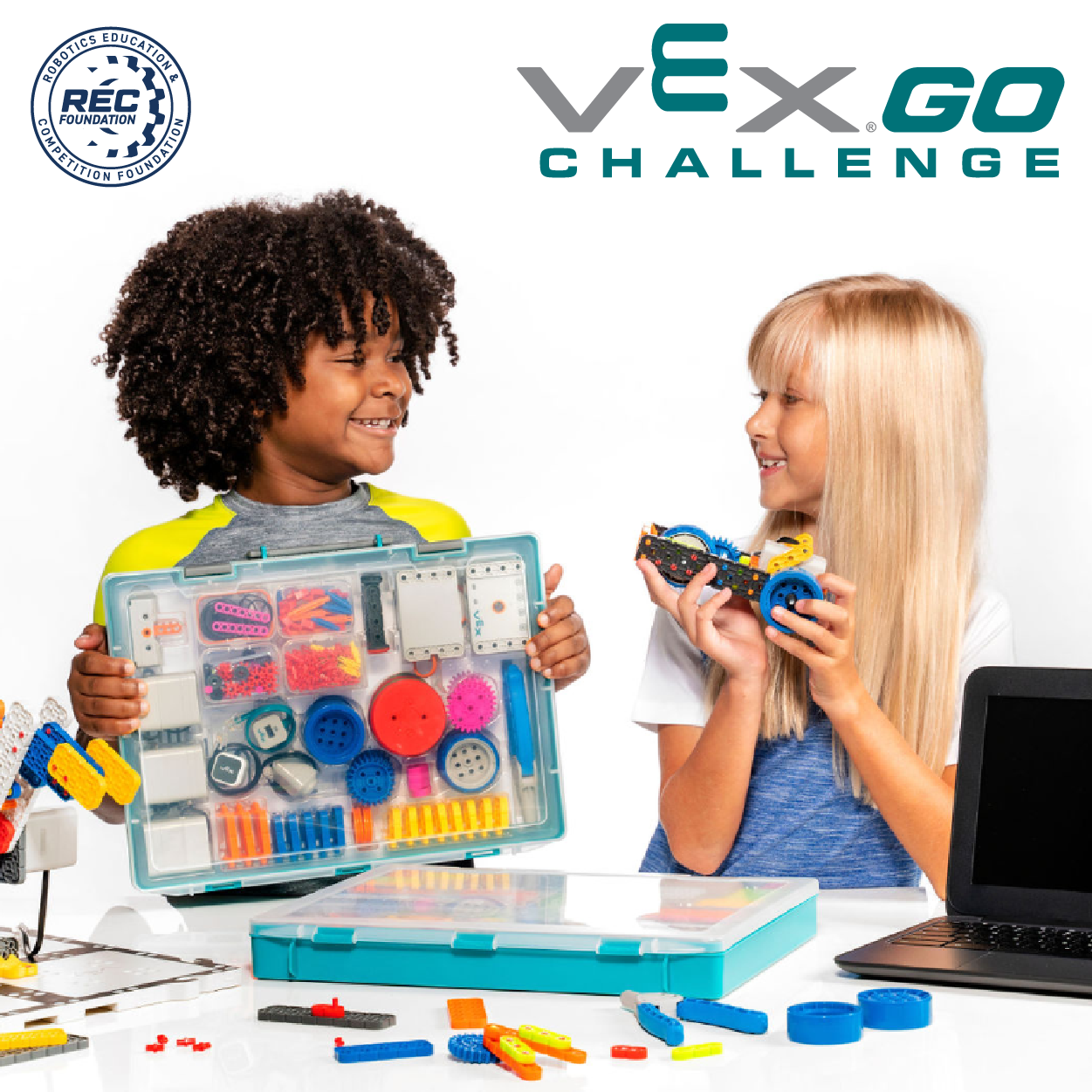 Código de evento: RE-VGOC-20-2969
Programa: VEX GO Challenge
Tipo de evento: Online Submission
Capacidad: 10000 / Spots Open: 9910
Precio: FREE
This event is closed to registration because:
It is past the registration deadline.
Fechas del evento
Fecha: 11/02/2020 - 06/30/2022
Nivel académico : Elementary
Concurso de habilidades de robots ofrecido: No
Información de contacto
You must
login
to contact this Event Partner
General Info
VEX GO Challenge (VGOC) Program - Level Up!
The VGOC program is a classroom based challenge that provides young students with the opportunity to extend their learning through participation in multi-level challenges, set personal achievement goals, and to Showcase their learning as part of the K-College VEX Continuum.
 Now, with the VEX GO Challenge, students are introduced to the world of competitive robotics by participating in both individual  and classroom challenges that are tailor-made for elementary students.
The Robotics Education & Competition Foundation's mission is to increase student interest and involvement in science, technology, engineering, and mathematics (STEM) by engaging students in hands-on, affordable, and sustainable robotics engineering programs. The VEX GO Challenge (VGOC) provides students with open-ended challenges allowing them to track their progress, set and achieve personal goals, and apply the engineering design process in a creative way.
VEX GO Teams are presented with a variety of challenges with the goals of having unique designs, best run time, and a creative approach to problem solving.
Agenda
 

Level 1

Goals: Intro to VEX GO (PBL), Building, and Programming

Each team will complete 3 or more VEX GO STEM Lab Units and  earn at least 15 Star Ranking Points to earn the Level 1 Digital Badge. 

 

 

Level 2

Goals: Building, Design, and Communication

Each team will complete a 3 or more VEX GO Activities and earn a minimum of 9 Star Ranking Points to earn the Level 2 Digital Badge.

 

 

Level 3

Goals: Programming, Using Sensors, and Strategizing

Each team will complete 3 or more VEX GO STEM Lab Units and earn at least 8 Star Ranking Points to earn the Level 3 Digital Badge.

 

 

Level 4

Goals: Apply learning to a Design Challenge using the Engineering Design Process.

Teams will apply their learning to Design, Build, and Launch a Rube Goldberg Machine to perform a timely (funny) task and earn at least 42 Star Ranking Points to earn the Level 4 Digital Badge

 
Volunteer
Not applicable
Emergency/Bad Weather Policy
Not applicable
Refund Policy
Not applicable