R7e:
An unlimited amount of non-elastic rope / string, with a thickness / diameter between 1/8" (imperial standard) / 3mm (metric standard) and 1/4" (6.35mm). String must measure at least 1/8" / 3mm in diameter at its narrowest point while on the Robot under no load.
VUR4:
Fabricated Parts must be made from raw materials. For the purpose of this rule, a "raw material" is any material that would not be considered a "pre-fabricated" part (i.e., has not undergone any of the fabrication techniques listed in VUR3). Standard raw material finishing processes, such as extrusion, heat treating, or anodizing, are not considered pre-fabrication.
VUR7:
Teams may use any commercially available fastener on their Robot. Examples include (but are not limited to) screws, nuts, washers, rivets, hinges, pins, rod ends, threaded rods, hose clamps, bushings, spacers, or standoffs. To be considered a legal "fastener" in the context of this rule, the primary function of the part must be to join or fasten together two otherwise legal parts.
Recently, the game manual was updated to require all string be at least 3 millimeters in diameter. This raises a couple questions in regard to VEXU:
Does string, regardless of diameter or material, qualify as a fastener by VUR7 if being used to connect two objects together?
For an example, steel cable with a diameter less than 3 millimeters was used in this fashion on one of our VEXU Tipping Point robots, as shown in the attached image.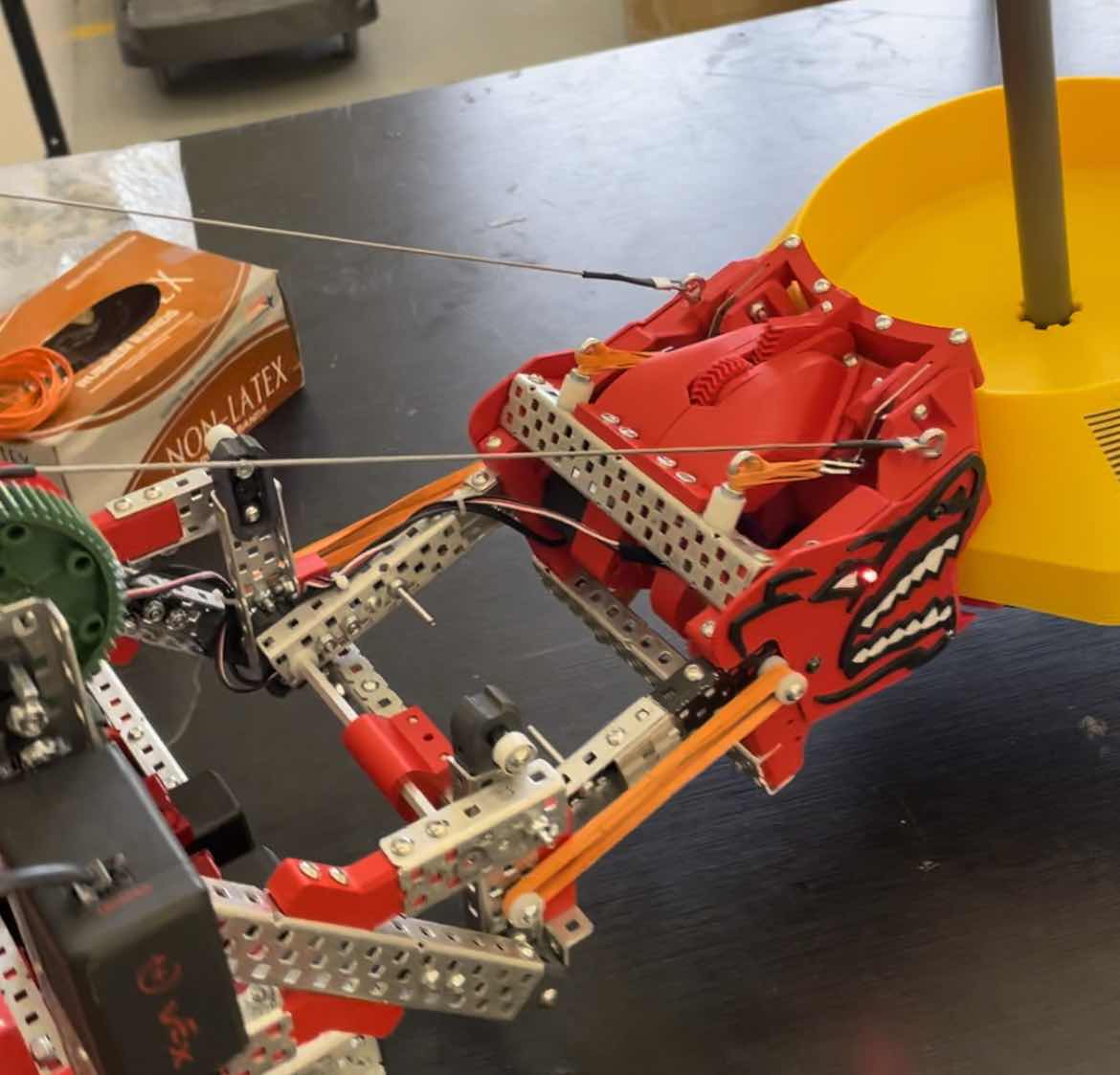 Regardless of the answer to the above question, there are other extruded raw materials that would be legal under VUR4. For example: fishing line, TPU 3D printing filament, or metal wire, can all act like string and fulfill the same purpose. These materials are often less than 3 millimeters in diameter. Additionally, if the unstated intent of rule R7e is to make endgame mechanisms easier to score, then string size restrictions could vary based on its application on the robot. Therefore, the follow-up question is:
Can string or string-like materials with a diameter smaller than 3 millimeters be used for endgame mechanisms on VEXU robots?